This post will be an opiniated discussion about the advantages and disadvantages of the different tablet platforms out there. This is not the kind of post I normally write but for once I feel the need to express my personal opinion about a subject, rather than solving a particular programming problem which is my normal kind of blog post. The reason for this is the continuing bashing of Windows 8 tablets (especially the RT variant) that occurs online and in printed media. As it happens I have personal experience of Android tablets, iPad and both Windows RT and Windows 8 tablets so I'm in a good position to compare these systems to each other.
Much of this post is obviously subjective opinions but hopefully one or two of you will learn something new about these platforms.
Android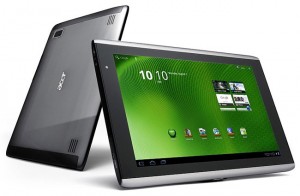 My first tablet was an Acer Iconia A500 that I bought a few years ago. I was really happy with this tablet from the beginning and I choose it over an iPad for several reasons:
I could configure it and tweak it so that it worked exactly the way I wanted
Widgets were very useful
There were plenty of apps, even though not as many as for the iPad. There are several kinds of Android apps that simply do not exist for iPad, such as custom keyboards (the one I like best is the amazing SwiftKey) or utilities such as the really cool Tasker app that triggers actions on events such as geographical location, currently running app, etc.
It had a full size USB port enabling it to read files directly from a USB memory or an external hard drive
It had a micro sd card slot making it easy to extend the builtin memory
It was cheaper than the iPad
All these are valid reasons and the tablet did indeed live up to my expectations in these areas. It's pretty cool to be able to connect a PlayStation 3 hand controller and play games on it, for example.
There are downsides to this platform of course, as there always are. The main reason that I don't use this tablet very much these days is mainly one thing – it has a really laggy user interface. The GUI wasn't very smooth even when it was new, there was always some "stuttering" in animated transitions. It was disturbing but I could live with it. The problem is that it got worse over time. I'm not sure about the reason for this but I have experienced the exact same thing on all my Android deviced I have owned (the HTC Desire and even the Samsung Galaxy S3 have the same problem). The reason might be that the accumulated amount of installed apps requires more and more resource but it's not very evident what's happening when the GUI locks up for a second or two sometimes and there is no apparent activity. CPU monitors don't indicate extensive CPU usage either so I'm not sure about what the problem is.
Also, the standard web browser is not so good either. It displays most pages correctly but is rather slow. Chrome is the new standard browser and that's even worse in that respect, it takes ages to download enough of a page to start display it and when you scroll down a page it's incredibly laggy when downloading new content coming into view. Other browsers such as Dolphin does a much better job, making web browsing bearable.
For these reasons I was tempted at buying an iPad and when I found an iPad Mini on sale I took the plunge.
iPad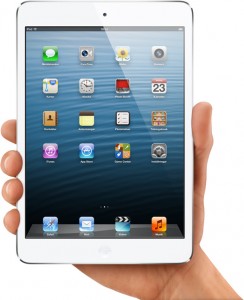 What immediately strikes you when you buy an "iDevice" is that it feels really classy, from the box design and packing to the actual design of the device. Apple products have a reputation for "just working" without hassle and I think that the philosophy of good looking devices that you simply turn on and start using is a really neat one.
You can't configure an iPad in particularly many ways, but that was fine by me. This time I bought a tablet, I was tired of having to troubleshoot performance problems and stuff like that. I bought the iPad to use it on the commuter train and I wanted it to be easy to handle, quick to start up and have stable apps. I have mostly used it for watching video courses using the PluralSight app, watch movies or play the odd game. The iPad do these things really well. And there is never any unexplainable delays in the user interface! The reason for this is likely the iPad's simpler architecture and APIs, it doesn't for example allow background processes as freely as Android, but for me the user experience easily outweighs the limitations.
The other thing that Apple has really been successful at is
integrating a lot of apps and content in the App Store
. I was aware of the large amount of very polished and stable apps that was available (and I wasn't disappointed) but I did not know of the excellent integration of
magazines and podcasts
. Essentially all you need to do to have easy access to this content is to select the ones you're interested in, pay, and you're done. No other platform makes it this easy, you often have to install a special app, Google for feed Urls, etc, but for iOS devices all this is already prepared for you.
The worst problem with the iPad in my opinion is it's reliance on iTunes for importing media to the device. This is really incredibly limiting as it supports very few video formats and if you try to import non-supported files you don't even get an error message, it's just silent. Took me a while to understand what the problem was. The builtin video player is good for supported files and it supports sub titles in m4v files, for example. But if you need to play files on your home network you need a more powerful media player
The best media player I have found is nPlayer. It supports many formats and features for network files (in file shares and DLNA servers for example). Recently I also learned that that it actually supports copying non-iTunes-compatible video files directly to the iPad by using the App tab of iTunes when my iPad is connected to the computer. That removes the need to convert all files to specific formats as nPlayer supports most file types. The files are only available to nPlayer, not any other app, though. It's a little clumsy, but it works.
Windows 8
In spite of the video annoyances I was rather happy with the iPad, but when I attended a Microsoft conference (TechEd Europe to be precise) there was an offer to purchase the Microsoft Surface RT tablet and the Surface Pro tablet rather cheaply. Being a technology buff, I couldn't resist the temptation so I got both of them, mostly out of curiosity. I have been using Windows 8 at my home computer for some time and haven't really seen much point in this Windows version for a desktop computer but I though it would be nice to try it on devices that have been developed from the start to work well with touch and the "Modern" UI interface.
The Surface Pro is a real PC with an Intel Core I5 CPU and Windows 8 Pro. You can install all Modern UI apps and any old Windows program on it and it just works. I have even tried to install Oblivion, a 3D role-playing game a few years old, and it played really well. The unit is a little heavier and thicker than a normal tablet but that can be forgiven when you consider that it's actually a full PC.
The device comes with a pressure sensitive pen that feels very natural and is more useful than I expected it to be, both for taking notes and drawing in OneNote and for operating the desktop UI, which sports rather tiny UI items because of the full HD screen.
The Surface RT is in many ways the opposite of the Surface Pro. It has a really neat design, and it's thin and light. It uses much weaker ARM-based hardware than the Surface Pro and it's a wide-screen device which makes it much better suited for watching movies than the iPad. The battery life is much better than the Surface Pro.
The main objections people seem to have about the Surface RT are
There are too few good apps in the Windows Store
You can't run desktop apps on it
The first point is absolutely valid, the really good and useful apps in the Windows Store are really few and the ones that are there don't seem to get much attention from their developers. Wordfeud, for eample, is several versions behind its iOS and Android siblings.
The second point is not so much of a problem since running desktop apps do indeed require more powerful hardware and worse battery life. If you really need that, go with the Surface Pro, otherwise get an Surface RT. The criticism is also unfair when comparing the Surface RT to Android tablets and iPads – they can't run Windows desktop applications either! And besides, Microsoft Office is included with the Surface RT and it works really well. I haven't had any problems with opening documents or spreadsheets.
Actually, apart from the meagre app supply I can't really see many problems with the Surface RT. What surprised me was that the deskop mode is actually available and it looks almost identical to a "real" desktop computer. There is the normal File Explorer and it supports network shares just as well as a normal laptop/desktop. This is a really powerful feature no other tablet OS can match. It just works! Also, if you have a Modurn UI app, they also will support file shares etc automatically as that support is built into the OS. On other platforms, each app has to rely on a third party library to cope with this and it seldom works robustly.
Movie file format is limited in the standard player, so I use PressPlay Video instead, which is great. Moving files from other computers, memory sticks or the Internet is done in the same way as for a "normal" computer using the File Explorer or saving directly from the web browser.
Being a Windows computer, my Surface RT tablet automatically discovered my Canon network printer and installed the correct printer driver. I can now print web pages from Internet Explorer or documents from Office and it didn't take any configuration at all. "It just works." 🙂 No other platform can do this as far as I know.
So I'm actually rather happy with my Surface tablets, and when I installed the
Windows 8.1 Preview
on my Surface RT, it's even better. There are numerous small improvements, such as much better side-by-side running of apps (see image on the right). Again, no other tablet can do this (Samsung has something similar for their tablets but it's a more manual process).
I have used both my Surface tablets more than I expected. On the Surface Pro, Netflix in the Chrome browser with MediaHint browser add-on has been awesome for watching US NetFlix content. I have also started to appreciate Microsoft Office OneNote (I think the pen made it feel very natural to use that application). The Surface RT has also been used a lot, mainly for web browsing and watching movies (from my NAS or the standard NetFlix Windows 8 app). Windows 8.1 makes the Windows 8 experience much more streamlined and I think it's a shame that Windows 8 wasn't like that from the first version.
Summary
Of the three kinds of tablets I own, the Android is used the least because of UI lagging. Google promises that Android 4.3 adresses this problem, but I'll believe that when I see it. It's also not likely to be an update that Acer will support on an older tablet like mine.
The iPad is actively used in exactly the ways I expected, mainly when commuting and also by my kids as it has a bunch of great games that they like.
My Windows 8 tablets are also actively used and I like them both more than I thought I would. They have more features that are usable to me than both the Android tablet and my iPad.
The main problem with Windows 8 is, as everybody already knows, the lack of useful and robust apps. There are apps like that, but they're too few. I don't think that's going to change either, iOS and Android have gained so much momentum that it's too late for Microsoft to catch up with them. Microsoft have one unique absolute killer feature however, in that Surface Pro and it's brethren can run Windows desktops applications. When that kind of tablet becomes smaller and with better battery life I think that much will happen in the tablet market. My Chrome + NetFlix + MediaHint use case is an example of the power that this platform brings to the tablet format.
To sum it up, I think the Windows RT and Windows 8 Pro tablets have taken too much and exaggerated criticism so far. They're not perfect but then the competetion is not fault-free either. The problem is not that Microsoft and it's allies deliver bad products, it's that they're too late so that the other app markets have had time to grow too large.
Just my two cents…
/Emil